21st May 2020
SMARTFOOT® precast ground beam installation for a retirement village in North Yorkshire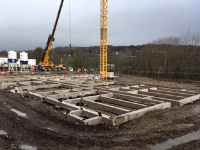 Working in partnership with the UK's largest retirement home developer, McCarthy & Stone, Van Elle delivered one of its largest and complex integrated piling and Smartfoot precast ground beam projects. This project included several challenges including challenging ground conditions and details for lift-shafts which were overcome by the adaptability of the Smartfoot system.
Working around additional restrictions on piling techniques due to the proximity of an adjacent rail line, installation of driven precast concrete and steel tube piles was integrated with pile cap construction and beam placement, secured through the Smartfoot a post-tensioning system.
The bespoke beams are manufactured on a 'just-in-time' basis at Van Elle's production facility near Mansfield and once delivered to site, were installed at a rate of 200 lin m per day using only three on-site personnel.
Peter Handley, Director of Housing for Van Elle commented,
"McCarthy and Stone are a key customer and this technically challenging project has been a positive demonstration of the benefits of the Smartfoot system"

For more details on our capabilities in housing, and other foundation solutions, please click here https://www.van-elle.co.uk/services/Housing/ or email info@van-elle.co.uk
Housing