11th February 2021
Quantity Surveyor apprentice is fulfilling dream to earn degree at Van Elle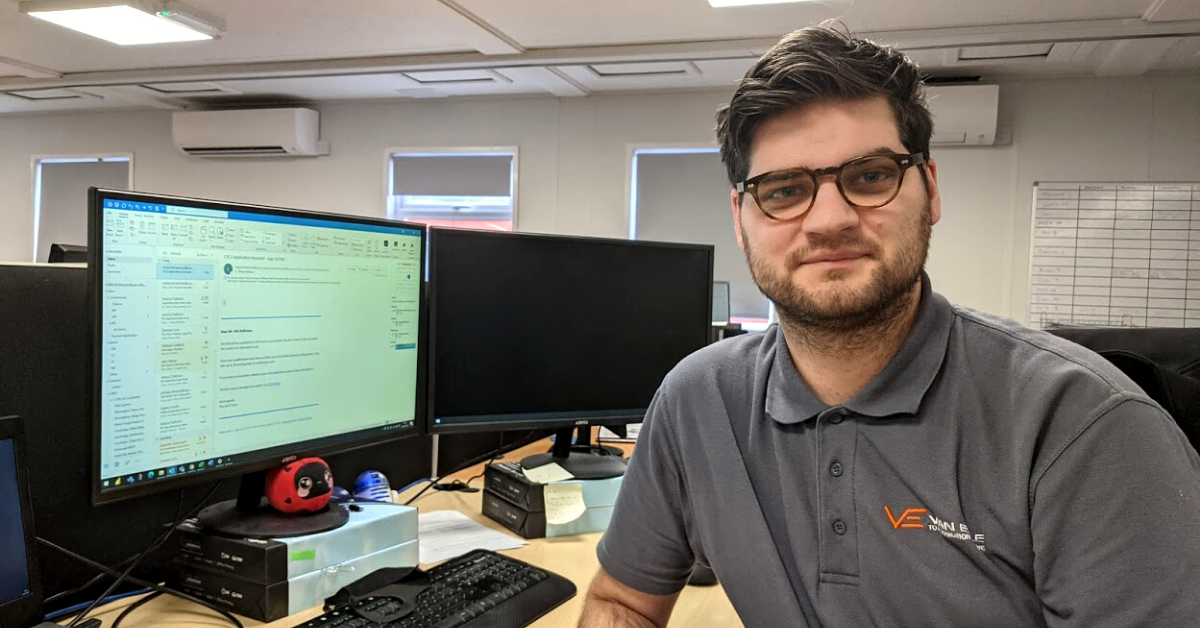 A Van Elle apprentice says he owes his career to his apprenticeship as it has helped him fulfil his dream of earning a degree after joining the company.
Nils Rollinson, an Assistant Quantity Surveyor, joined the UK's leading ground engineering contractor in March 2020 as the country was plunged into its first lockdown.
Three lockdowns later he is on his way to becoming a chartered Quantity Surveyor after leaping at the chance to take on an apprenticeship with Van Elle.
The 28-year-old said: "I joined the company in March last year as an Assistant Quantity Surveyor and in September I was given the opportunity to do some formal training.
"The advantage of doing an apprenticeship here is that I get a degree, I get chartership and I get five years of experience at the same time. It gives me the skills an employer would want; an apprenticeship makes you more employable.
"If you get offered one take it, it is probably the easiest answer I've ever had to give. I have always wanted to get a degree."
At the end of his five-year apprenticeship with Van Elle and Nottingham Trent University, Nils will have earned a Bachelor of Science with honours in Quantity Surveying and Commercial Management.
He then has the option to become a charted surveyor in his sixth year.
Nils is currently working within the General Piling division of Van Elle where he has already gained valuable on the job experience.
He added: "I deal with day-to-day tasks including project applications and payments.
"I also manage costs, review how contracts are performing and how that will financially impact the business.
"Experience is valuable, not only for your role but in helping you understand the industry as a whole."
Prior to joining Van Elle Nils was working as an Administrator for another ground engineering company.
He explained: "I have been in the construction industry for eight years now. Whilst working as an Administrator, I got a lot more interested in analytics and engineering and I realised that I wanted to pursue it as a career.
"So, when this job at Van Elle came up it ticked every box. "I would encourage anyone who is thinking about taking on an apprenticeship to go for it."