30th November 2020
Teamwork enables electrifying rail project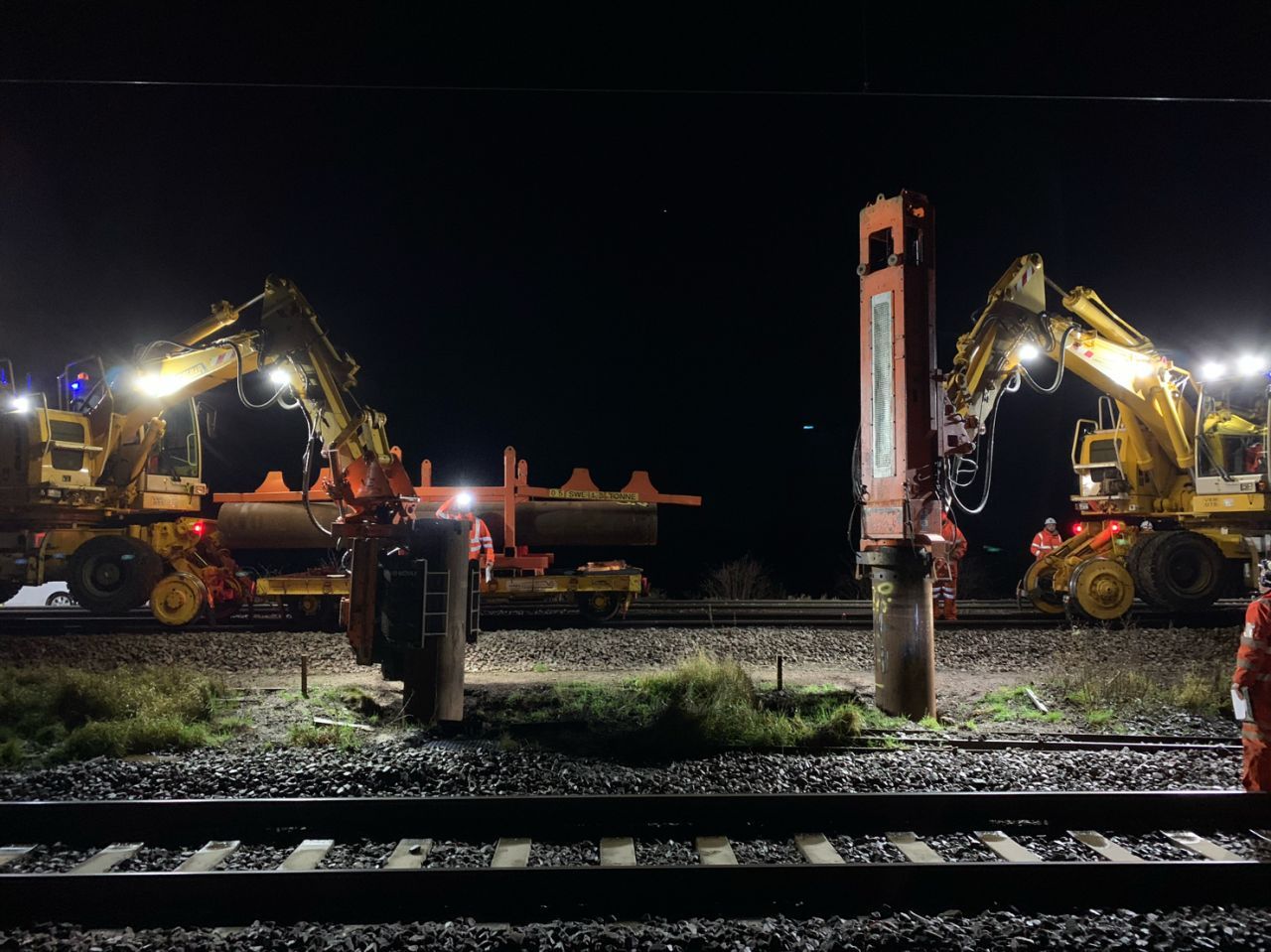 Two of Van Elle's key divisional teams have worked together to enable the electrification and re-signalling of the Midland Mainline, supporting major upgrades to the country's rail infrastructure and cutting carbon emissions on the network.
Van Elle's rail team supported by and its specialist ground investigation company, Strata Geotechnics, has delivered crucial ground engineering work on the "Key Output 1" project for Network Rail to lay the foundations for the new electrified railway line.
The rail team has safely and successfully installed more than 5000 piles between Corby and Bedford with around half enabling the twin tracking works on the Corby lines, with the other half installed for the overhead line equipment (OLE) and signal structures.
The team has also completed piling for the Kettering to Market Harborough section of the project.
Meanwhile, Van Elle's Ground Investigation company, Strata Geotechnics, has completed crucial testing and analysis to support the electrification of the line between Kettering and Market Harborough.
Strata has completed window sampling, rotary coring and dynamic sampling in more than 40 locations on the line to optimise the design process for the next phase of construction.
John Allsop, Rail Engineering Director at Van Elle, said: "A variety of pile types and technique were installed along the route in what were sometimes challenging ground conditions. Piles were installed using our dedicated fleet of Road-Rail-Vehicles (RRV's) managed by our own plant operations scheme. Including, UC sections for king post retaining walls and AZ sheet piles were installed along the Corby line to create stability to the embankment prior to reinstating the second track.
"Where shallower rock levels were encountered, we were able utilise our specialist equipment to overcome and install CHS foundations into rock utilising specialist drilling techniques. It's down to the expertise of our team that we're able to offer the service we do and with the rigs we have and maintain that we can offer the range of services and solutions we can."
Ground engineering work on the Kettering to Market Harborough phase of the project is expected to be completed in November 2020.
The Key Output 1 (and Key Output 1a) project is part of a major upgrade to the Midland Mainline rail network to electrify more than 60% of it.
Van Elle recently topped a table of the UK's ground engineering and geotechnical contractors with Ground Engineering Magazine. Van Elle covers a wide variety of ground engineering projects across the housing, construction and infrastructure sectors.
Rail