8th February 2021
Van Elle celebrates National Apprenticeship Week 2021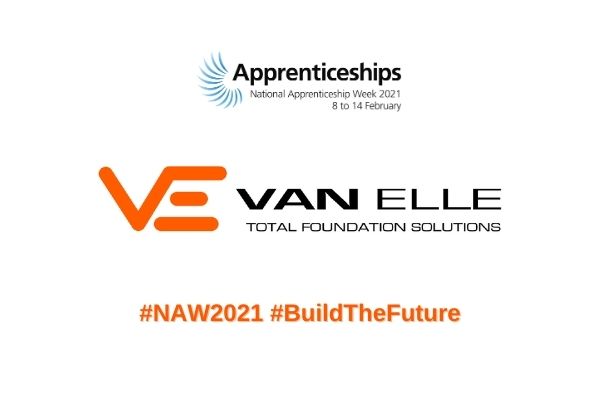 Van Elle is launching its week-long celebration of the diverse range of apprenticeships it offers with a closer look at the people who are earning and learning with the business.
Van Elle currently employs 20 apprentices across a range of disciplines, supporting their careers from the very start through to the highest possible levels.
Learners at the company are currently undertaking qualifications industry specific areas such as piling and engineering through to areas such as accountancy and digital marketing.
The group includes a diverse range of people, ranging from school leavers through to a 52 year-old who is studying to become a piling rig attendant.
Our current apprentices are studying:
Civil Engineering
Construction Civil Engineering, Plant Maintenance
Piling
Land Based Service Engineering
Chartered Surveying
Accountancy
HR
Digital Marketing
Throughout the week we will bring you some more in depth look at some of our current and former apprentices, sharing their stories about learning on the job and how they've coped with learning through the pandemic.
This year's theme for National Apprenticeship Week is "Build the Future", aiming to encourage everyone to consider how apprenticeships help individuals to build the skills and knowledge required for a rewarding career.
For more information on National Apprenticeship Week, visit gov.uk or search #NAW2021 or #BuildTheFuture on social media.