26th March 2020
Van Elle delivers bespoke, efficient foundation package for pioneering modular home development in Lancashire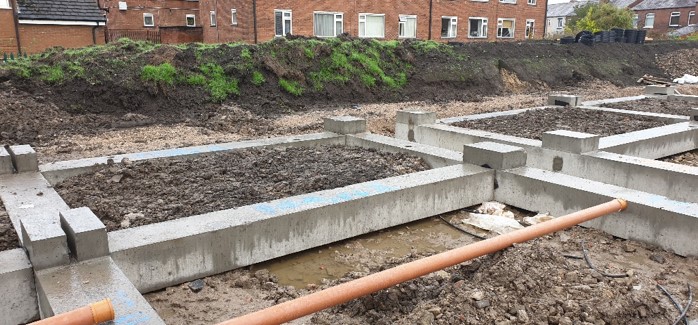 Although modular home development is a relatively new method for residential housebuilding in the UK, the sector is seeing healthy growth and will become a key area as demand and supply of housing increases. The method of construction allows savings to be made on-site by reducing the amount of time to erect the building, however it means foundation solutions have to evolve to facilitate this way of construction.
Working with main contractor Engie and award-winning modular home manufacturer ILKE homes we developed a foundation package that enabled efficient and effective construction on site for the housebuilder. The development at Victory Road, Bolton comprises of 22 new modular-built homes manufactured in sections in a factory before being shipped to site and assembled.
To support the new modular process, our talented engineers have specifically designed a plinth to support the point loaded frame for the houses. This is being cast in our factory to superior tolerances ensuring both speed and quality on site.
In preparation for the frame assembly on this pioneering scheme, we installed 124 No. piles and 728 lin m of our bespoke SMARTFOOT® precast ground beam system, which is manufactured in-house within our very own production facilitates. Once produced the ground beams are delivered to site by lorry on a per plot basis, working to just-in-time methods to help builders manage costs on a per dwelling basis. Once lifted in place via crane the ground beams are pulled together using tension wires to provide an extremely solid foundation to commence the assembly of the prefabricated sections of modular home.
Tony Pontiero, Director of Housing for Van Elle stated,
"Our bespoke SMARTFOOT® precast ground beam system can be designed to suit all projects for residential housing, enabling developers to deliver cost saving solutions to revolutionise housebuilding in the UK. Coupled with Van Elle's breadth of service offer across various techniques for piling, ground improvements and ground investigation and testing, we can really offer housebuilders a UK-wide one-stop shop for technical foundation solutions."
For more information on our breadth of service offer for housebuilders, our capability to deliver successful projects and pedigree in technical application please contact Tony Pontiero (Divisional Director, Housing) on tony.potiero@van-elle.co.uk or one of his team on 01773 580 580.