4th March 2021
World Engineering Day 2021: Sustainability at the Heart of Van Elle's Strategy
At Van Elle we are putting sustainability at the heart of our business strategy.  
From purchasing recycled products, reducing fuel consumption and waste to developing more efficient design solutions and construction techniques for our customers; sustainability is at the core of our business priorities.
So today, World Engineering Day 2021, we are celebrating the changes we have made to become more eco friendly alongside this year's theme 'Engineering for a Healthy Planet'.
Mark Cutler, Chief Executive Officer at Van Elle, said: "We believe sustainability depends on balancing environmental, social and economic requirements.
"Van Elle promotes low carbon solutions wherever possible including developing value-engineered designs that optimise the number, diameter and depths of foundations.
"We also offer optimised construction techniques to maximise productivity and off-site modular solutions that speed up the construction process and reduce resources on site.
"Recycled and environmentally friendly materials are used as much as possible and the company is proactively reducing waste on site, in its offices and yards."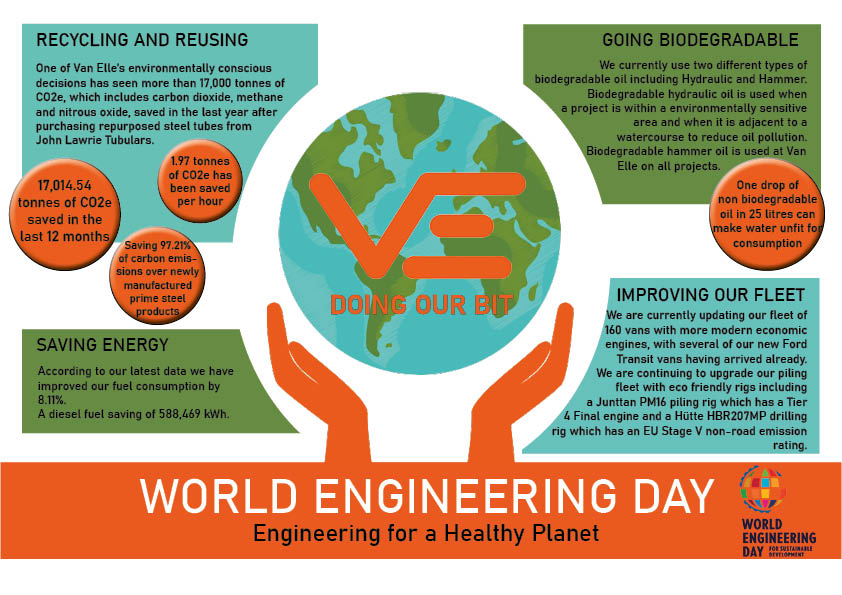 One recent change the company has made has seen more than 17,000 tonnes of CO2e, which includes carbon dioxide, methane and nitrous oxide, saved in the last year after purchasing repurposed steel tube piles from supplier John Lawrie Tubulars.
And with the support of Northgate we are also replacing our entire fleet of 160 vans with more modern, fuel efficient alternatives.
We have also been upgrading our piling fleet with the procurement of new specialist rigs with low emission engines and our second electric VETRAK restricted access ground investigation rig.