19th January 2021
Manchester Viadux project combines new and old piling techniques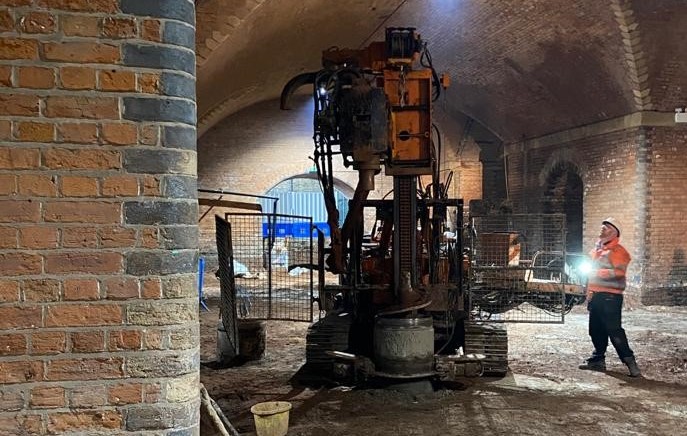 Van Elle is supporting a £300m development in Manchester to create new homes and businesses while preserving history.
Foundation work is now underway ahead of construction of two new buildings, which are being created on Albion Street against the historic railway arches of the area.
Van Elle's Specialist Piling team will install 268no. 600mm piles under a section of grade two listed railway arches to support the scheme, which will take around three years to complete and feature a 40-storey residential tower and a 14-storey office building.
Working under the railway arches has made access extremely restricted on site, meaning that Van Elle have deployed their fleet of specialists rigs to complete the work. Mixing older techniques with more modern approaches, the project has seen Van Elle install several preliminary test piles as well as using a specialist finite element analysis partner to fully test the design.
Dave Warner, Van Elle Specialist Piling Director, said: "This is a really interesting and exciting project to be involved in as we're able to adapt foundations and installation techniques to support this major new project while preserving the historic railway arches of the city.
"The arches make access very restricted, as low as four-metres in places, so we're using our specialist rigs with low masts to install piles in tight areas. Ground conditions have been challenging with deep rock sockets required in strong sandstone and high test loads have required the use of a bespoke low headroom testing set up. A great deal of value engineering has gone into the design and planning phase of this project."
Van Elle is completing the ground engineering work for Domis Construction and the client's designer, Renaissance, and worked with A2 Studio to carry out the finite element analysis and 3D modelling for the project.
Once completed, the new buildings will create around 240,000 square feet of residential and office space, while the railway arches will be transformed to create places for new bars, restaurants and shops.
Specialist Piling